Herbig-Haro 211 in Perseus
October 2023 - Picture of the Month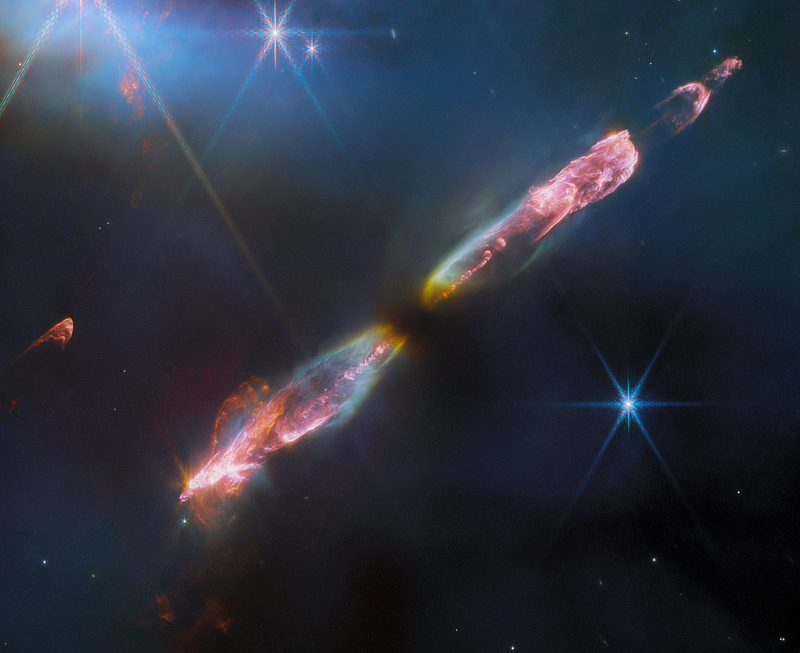 Ok, sometimes, very rarely, I cheat. My Picture of the Month is very definitely not something any amateur astrophotographer that I've come across would be likely to produce. In my defence, the James Webb Space Telescope (JWST) has been producing images for over a year now, and I haven't used any before. I do have a soft spot for dusty star-forming clouds however, and so when I saw this image I decided it was time to go for it.
This is Herbig-Haro 211 (HH 211) in Perseus about 17 arc-minutes south-southwest of Omicron Persei, and about 12 arc-minutes from the young open cluster IC 348. The whole area displays a fair amount of nebulosity which is indicative of the enormous amount of material that comprises the Perseus Molecular Cloud.
Of course this makes it hard to see much of what's going on in the visual part of the spectrum: HH211 doesn't show up on the Palomar plates of the Digitized Sky Survey (DSS), but it's just visible in some of the infrared surveys. Naturally high-resolution imaging in the infrared is one of the things that JWST was built to do, and for a Young Stellar Object (YSO) like HH 211 it can reveal all the details that would otherwise be obscured by the dust cloud in which it is embedded.
HH 211 is a solar-mass star in the making about 321 parsecs (~1,000 light-years) away. At the centre of this object is a Class 0 protostar that's currently only around 0.08 solar-masses, and still accreting from the 0.2 solar-mass torus of dust and gas which hides it from view.
The large structures in this image are generated by this star's bi-polar outflow jets which are ejecting mass back into the surrounding cloud and generating those impressively bright bow shocks. The red-shift of these structures suggests that the jet in the top-right is moving away from us and probably into a denser part of the molecular cloud than its counterpart. The bright knots inside the jets near to the dusty torus appear to be periodic, and it's possible that they indicate that the protostar may be a binary.
So there's plenty of fascinating science in the data behind this image, and hopefully much to be learned about star-formation. It's also a fabulous thing to look at.
James Whinfrey - Website Administrator.